LCD Ceiling Mounts/ Plasma Ceiling Pole Mounts & Brackets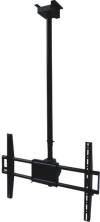 Here we list the most common type of Pole based mounts for attaching LCD monitors or plasma screen TVs to the ceiling. The product on the left is our new heavy-duty F A160 height adjustable ceiling mount. For more details on these monitor mounts, scroll down and simply click on the image of product name below, to go to the specific details fo each item. Please call us with to check if your monitor is VESA compliant or with any questions.
A practical and secure way to affix LCD monitors or Plasma TV screens to the ceiling, with VESA Universal brackets included that will fit most TVs available in the market.
Best Selling LCD monitor & Flat Screen TV celing Pole Mounts with Universal mounting brackets included
Ceiling LCD / Plasma pole mounts