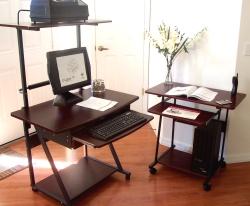 Medium Computer tables: from 27" to 35" wide
This category comprises compact computer desks of an ideal size, very popular in the office and medical exam rooms as a way of adding a computer workstation in a tight space, as well as at the home-office, and even in the classroom. These are portable computer tables that create a comfortable writing area in addition to efficiently holding a complet desktop computer or laptop, with its peripherals. Neither too wide nor to narrow, these desks fit in any corner.
All the carts shown with a tower printer shelf or hutch allow this shelf to be removed. The model STAK47 also includes a 25" wide drawer under the keyboard.
The S-003, STK007 & 2936 are height adjustable. Please call us with any questions or for details or to place your order by phone if you prefer.